As a parent, you want the absolute best for your children. With the rise of technology in this generation, getting them to do something other than being on screens can be difficult. Research is proving what parents already know, kids benefit all around from being outdoors.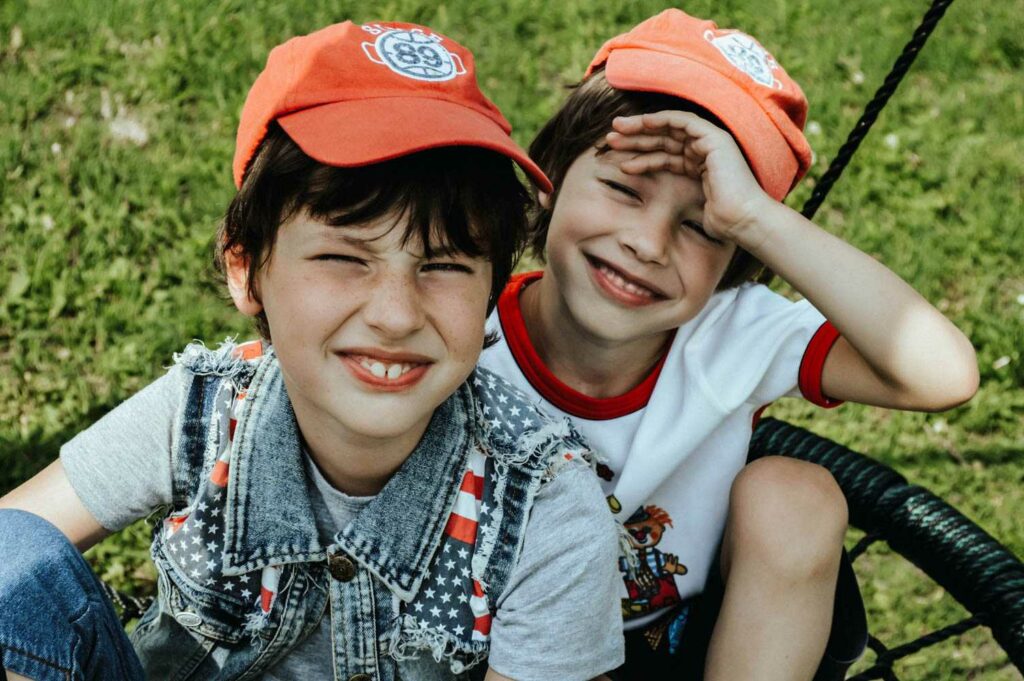 Benefits of Playsets for Children
Vinyl playsets are a great way to get children outside, and they gain undeniable benefits from playing. Studies on early childhood development from Michigan State University have shown numerous neurological and developmental benefits like:
Helping them develop gross motor skills – pumping legs, running, jumping
Helping them develop fine motor skills – grip strength, hand, arm, and finger coordination
Helping them develop core muscles
Helping them develop balance
Stimulating several parts of a child's brain simultaneously – helps them learn things like spatial awareness, rhythm and balance, and muscle control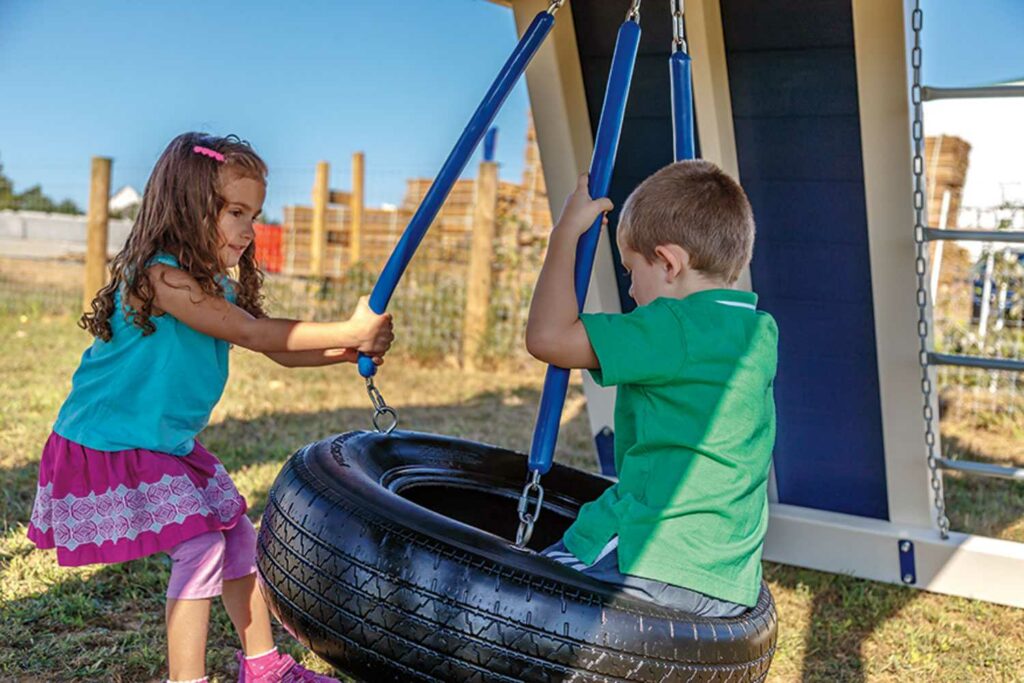 A study done by Brain Balance also suggests that swinging can help children with sensory processing disorders. The smooth back-and-forth motion can be calming to a child and help them process the world around them.
Playsets also encourage social interaction. Kids love to play together and use their imagination. They can rule their own little worlds and invite new friends to join their fun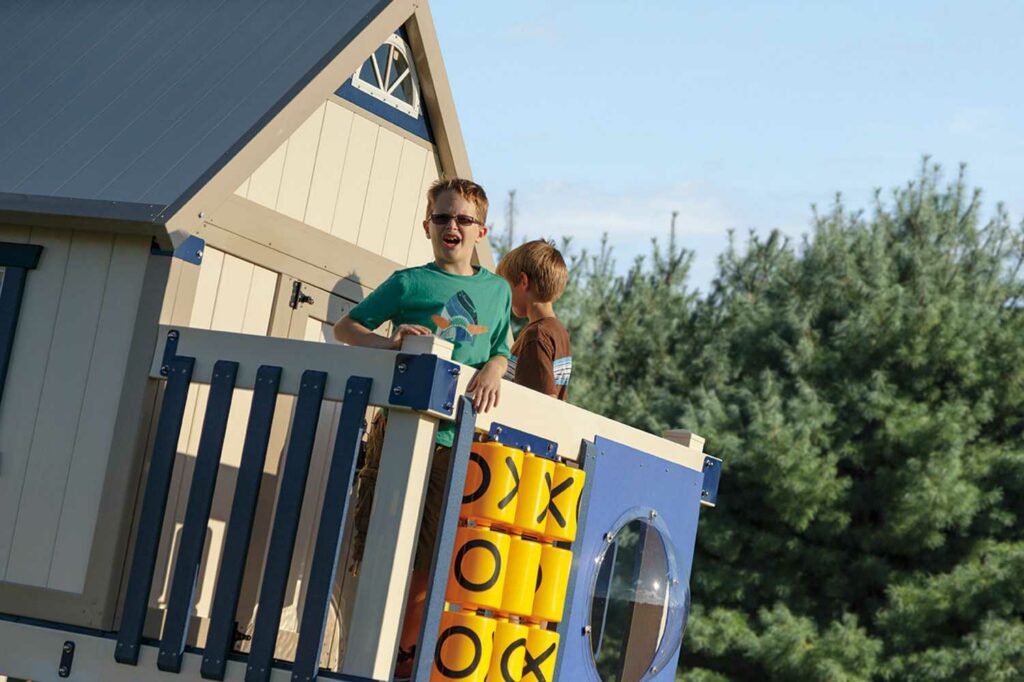 So, if you've decided to invest in a swing set, how do you know what to get? What are some important things that you need to consider before purchasing? We compiled the top 7 questions you should think about.
1. Are vinyl or wooden swing sets better?
There are pros and cons to each. A wooden swing set tends to have a more natural and traditional look. They also tend to have a smaller initial cost. However, they do take regular maintenance to keep them safe and looking nice.
Vinyl Playsets, on the other hand, are virtually maintenance-free. They won't rot or splinter, so they will always be safe for your kids to jump and play on.
Vinyl play sets are made with pressure-treated lumber covered with a vinyl sleeve. This means you get the strength of wood backed by the protection and durability of vinyl. While vinyl playsets tend to cost more, many people feel the cost is worth the added safety, durability, and ease of maintenance.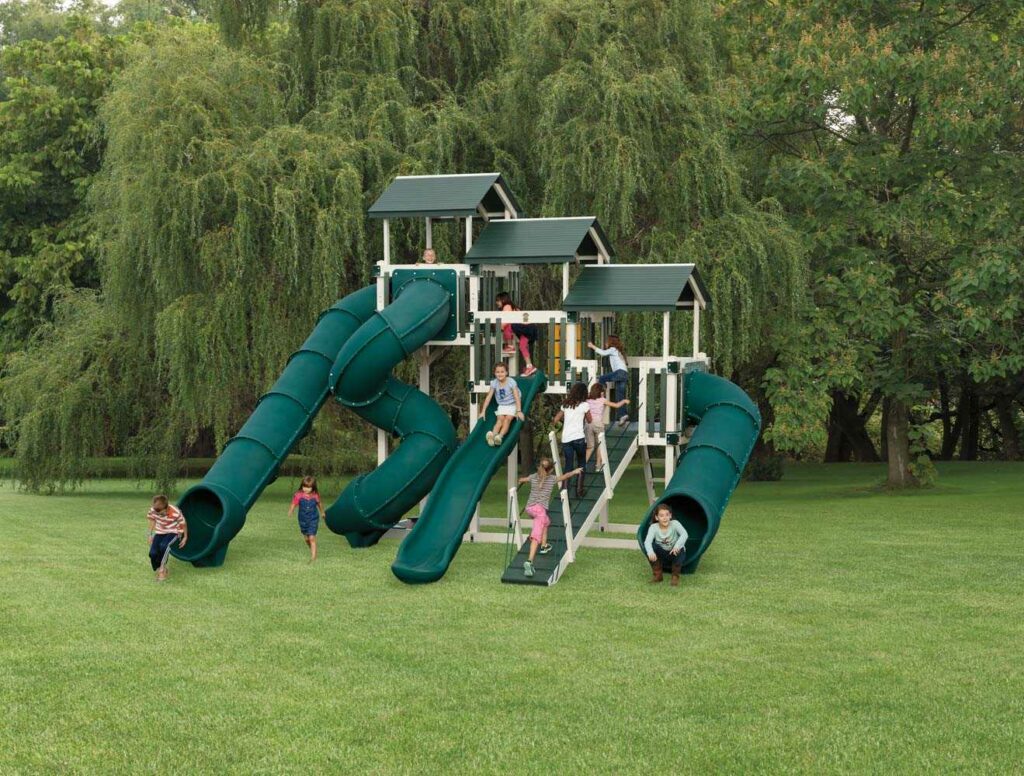 2. How long do vinyl playsets last?
You want your swing set to be tough enough to last your kid's whole childhood. Thankfully, vinyl playsets have been known to last 20+ years. Vinyl will not rot, warp, or decay like wood does and therefore will last longer. Our vinyl playground equipment is covered with a 20-year warranty.
3. Do vinyl playsets get hot?
Vinyl playsets maintain an even temperature and are definitely not as hot as wood or metal because they conduct less heat. Of course, the darker the color, the hotter surfaces will get. A light-colored swing set will be significantly cooler than a darker-colored one.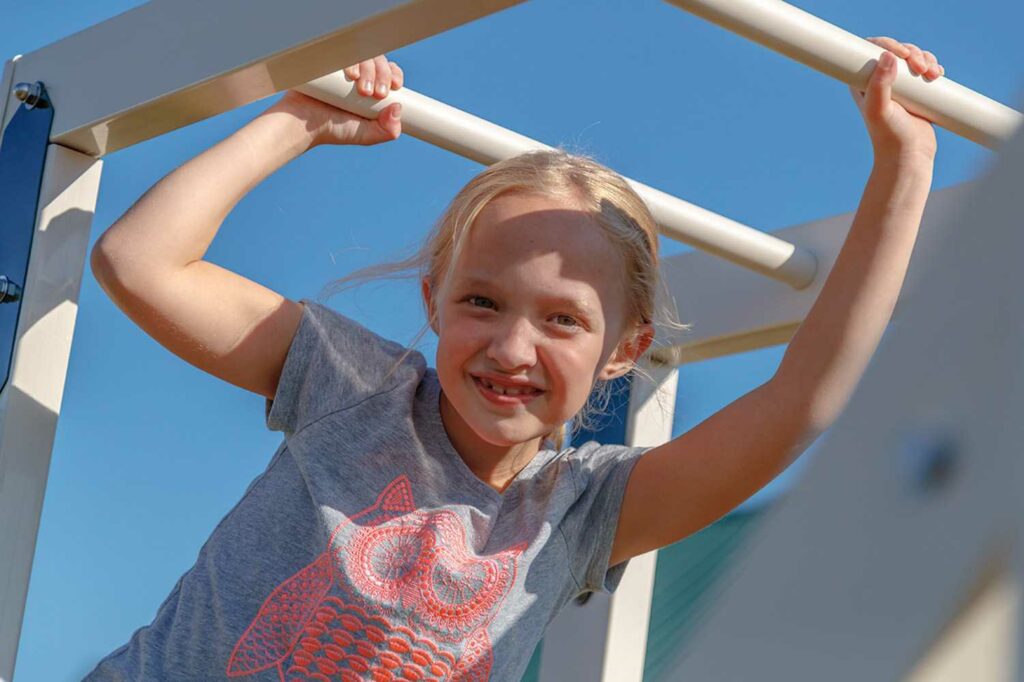 4. What are the most important factors to consider when purchasing a playset?
Type of material
Vinyl, wood, or metal? There are pros and cons to each. We compare wood and vinyl in more depth in question 1.
Safety and durability
How durable is the swing set you are considering? How much upkeep will it need? How sturdy is it? You should feel confident while making the choice that's best for your family.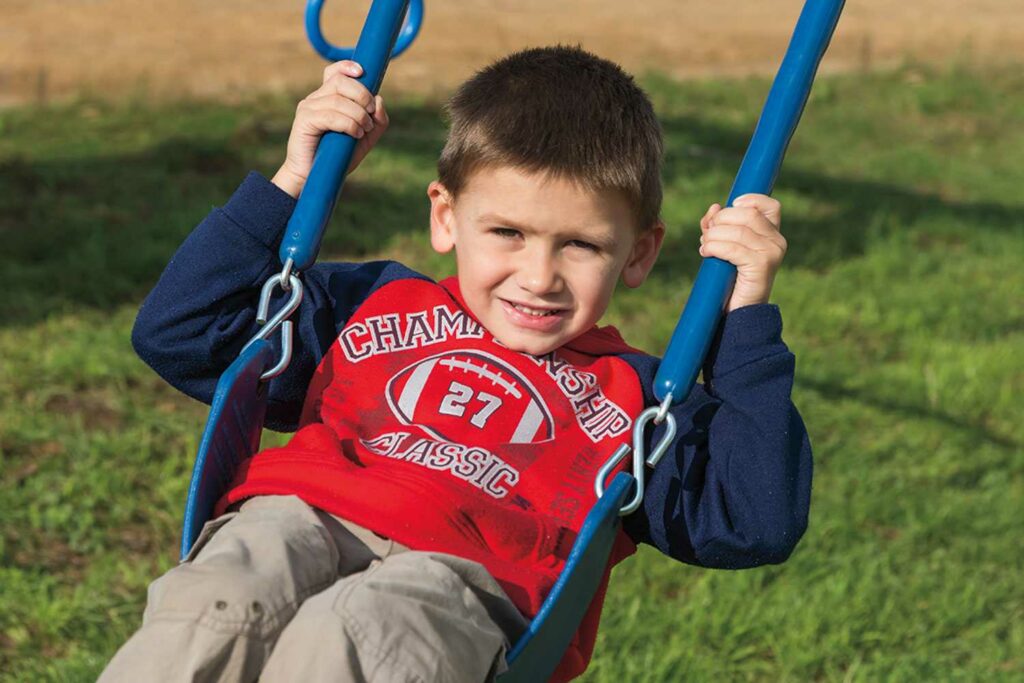 Available space in your backyard
A small backyard space has limitations that need to be considered in making your choice. As a general rule, figure about 6 feet of clear space around the swing set from any objects such as trees or buildings.
Your budget
Of course, the amount of money you can spend will play a role in the size and kind of swing set you will invest in. Keep in mind the cost of maintenance and the longevity of the equipment you choose.
We work with you to make sure the swing set you decide on is perfect for you and within your budget.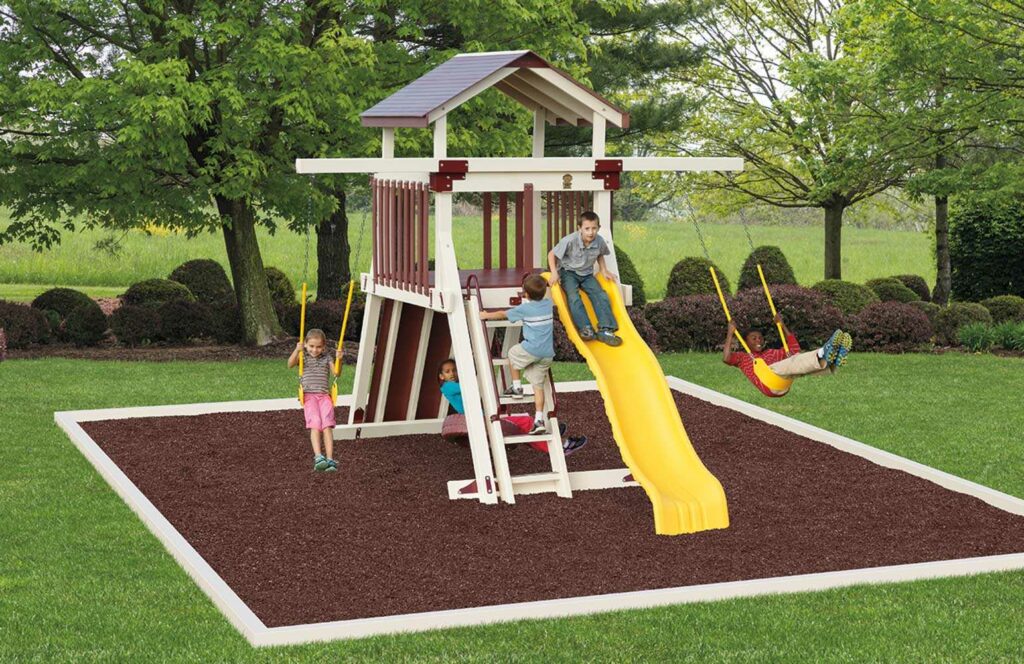 5. What do you put under a playset?
It is possible to install a vinyl playset on grass. However, wood mulch, shredded rubber mulch, or engineered wood fiber are all softer than natural turf. Rubber mulch (also called vinyl mulch) tends to be the safest, most attractive, and easiest to maintain. If you decide to put something like this down, first wait until the swing set is installed and firmly anchored to the ground before putting mulch around it.
6. Does a vinyl playset increase home value?
This depends on several factors such as the quality of the swing set and the type of property you have. If the swing set is attractive, sturdy, and maintained, it can definitely add to the home's value, especially if you live in a family-oriented neighborhood.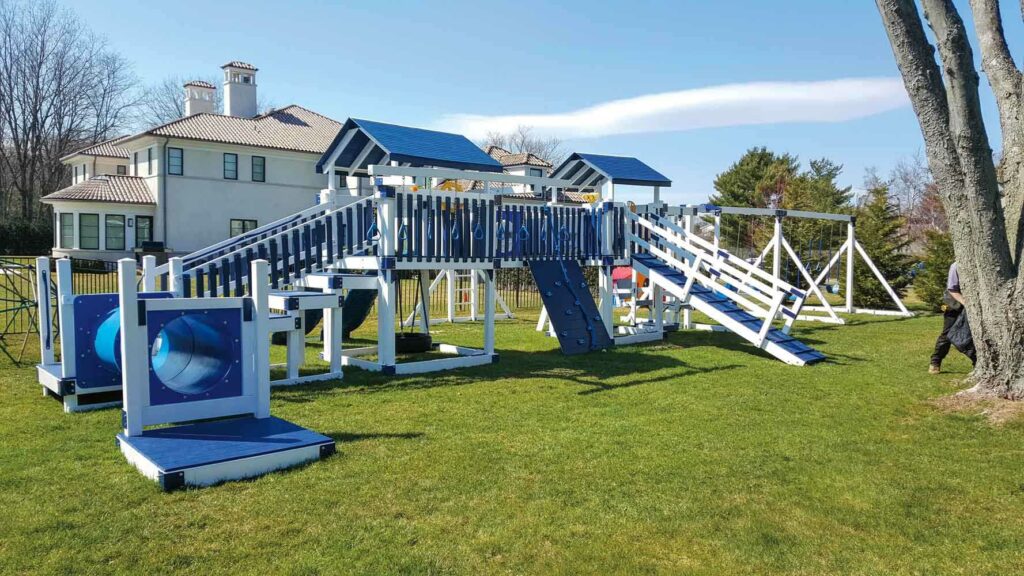 7. What are the maintenance and cleaning requirements of a vinyl playset?
Vinyl swingsets require significantly less maintenance than wooden swing sets. Because they are outdoor structures, they, like anything else, are susceptible to the elements. However, they are easy to clean and a quick rinse should get them shiny again!
It is also a good idea to occasionally inspect your swing set and tighten any loose screws making sure things are still safe and as solid as the day it arrived in your backyard.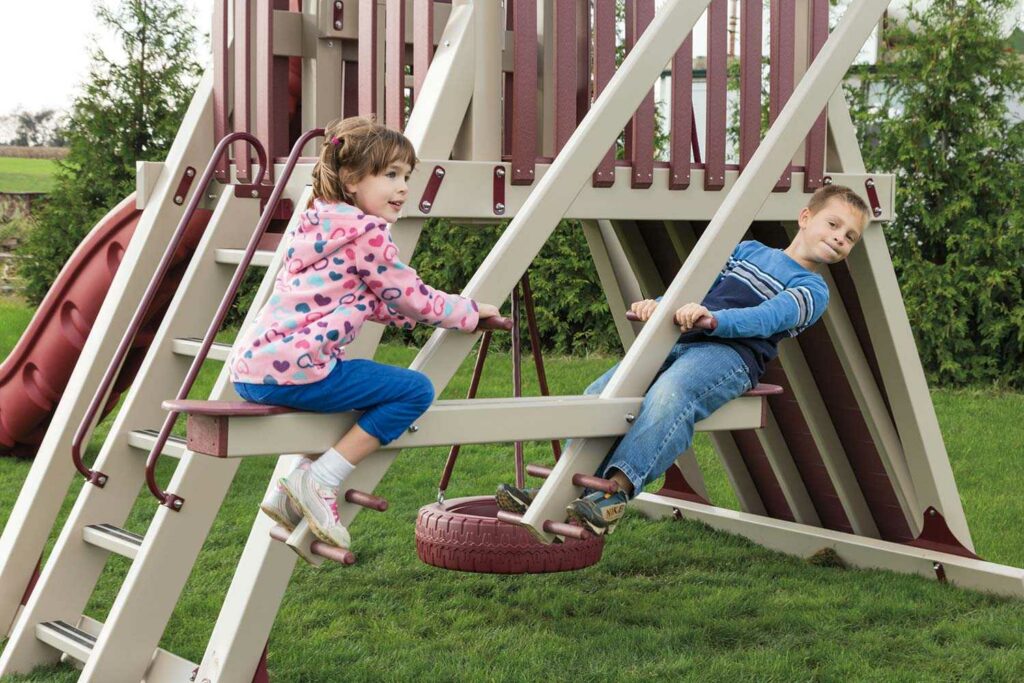 Invest in your kids and help them create memories that will last forever! We will walk you through our process and make sure you end up with a vinyl playset your whole family will enjoy.
About this article: Marcus Wenger is the Owner & General Manager of Baystate Outdoor Personia. With years of experience in building and selling outdoor structures and furniture, he enjoys leading his team in helping customers better enjoy their outdoor living spaces.
Marcus provided inspiration for this article and collaborated with a copywriter to produce it. Contact Marcus at 508.883.4043 with any questions or comments regarding this article.