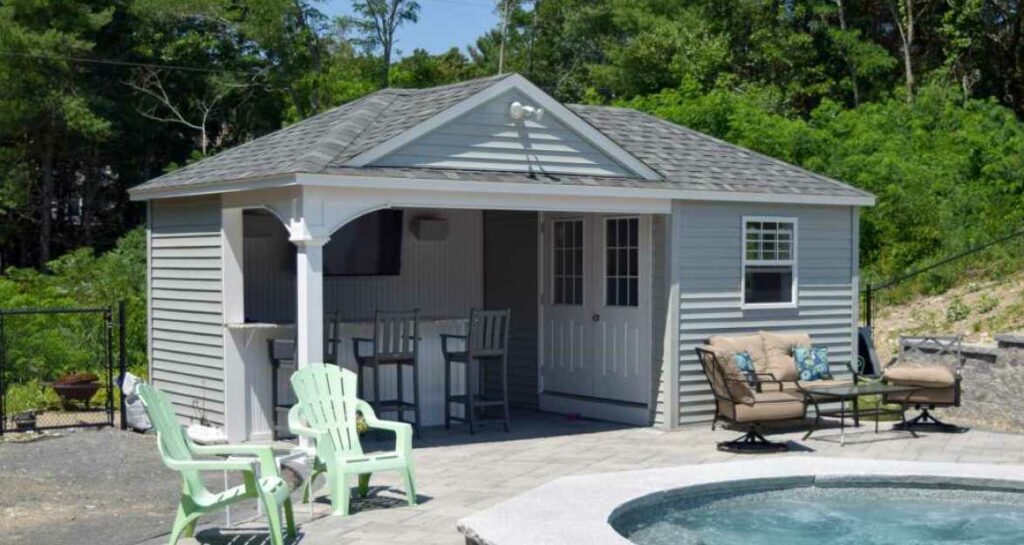 Affordable Prebuilt Pool Houses
Wow! That pool you installed is amazing…but you haven't been using it much. There's no shade nearby, bugs won't leave you alone, and you have to walk all the way back to the house for that drink you forgot. And let's not get started on all the pool toys and supplies you always have to lug out of the garage. Have you thought of a pool house, but aren't sure you can afford one after installing your pool?
Outdoor Personia is here to help!  We offer a full line of prebuilt, budget-friendly pool houses that your family will love as much as your wallet. With one of our quality pool houses in your backyard, you'll be able to relax in the air conditioned interior while the kids play in the pool. The extra space will give a perfect place for storing pool equipment or for changing. And a mini fridge can store drinks and snacks for your next poolside party. With a variety of predesigned pool houses, we'll have you enjoying summer in no time.
Don't see your dream style on our lot? You can order any of our budget pool house styles and customize it own to meet your specific poolside needs. Plus, Outdoor Personia can provide permitting and foundation assistance to help make your experience hassle free. Needing something beyond a prebuilt pool house? Check out our custom pool house solutions, built on your site.
Our Simple Process Makes it So Easy to Work With Us!

We want to understand your dream and then personalize a solution to match your vision.

Once you are happy and approve our proposal, we are ready to get to work!

We want to understand your dream and then personalize a solution to match your vision.
Pre-Built Pool House Styles
With our collection of traditional pool house styles, you'll be sure one that will be functional as well as tasteful. Make it uniquely yours by choosing the size you want and customize it with our many options!
2. We will contact you to have a conversation. 
3. Together we'll build your dream backyard!