(That You Won't Get From an Online Greenhouse Kit)
It's February. A New England blizzard is pinging your window panes, but you're snuggled by the fire devouring the latest seed catalog. Then you start dreaming of having your very own greenhouse.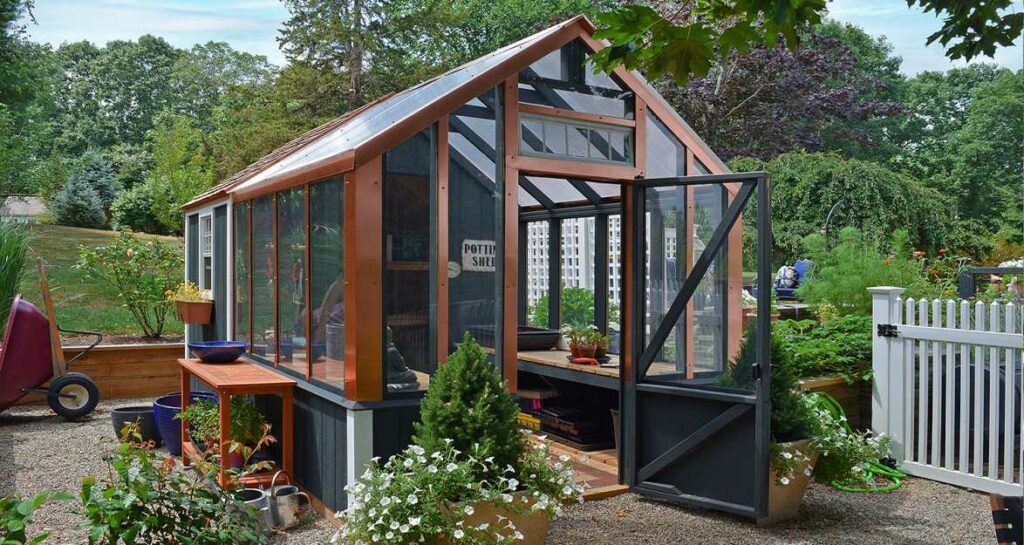 Wouldn't you love to maintain a garden year-round? Imagine having the smell of fresh herbs and the taste of garden tomatoes in any weather. Imagine having a solar-heated sanctuary to keep your plants healthy in the middle of harsh New England winters. Imagine getting a jump start on the growing season where you can plant early before moving the seedlings to your outdoor garden.
You can easily find greenhouse kits for sale online with quick delivery right to your doorstep. But is a kit ordered online really the best option for a greenhouse that's right for you?
Following are five advantages of ordering a custom greenhouse that you won't get with an online greenhouse kit.
Why Should I Buy a Custom Greenhouse Instead of a Kit?
1. You Get a Greenhouse Made Just Your Way.
Greenhouse kits may be a quick, streamlined solution, but the available styles and sizes are usually limited to what the manufacturer chooses to offer.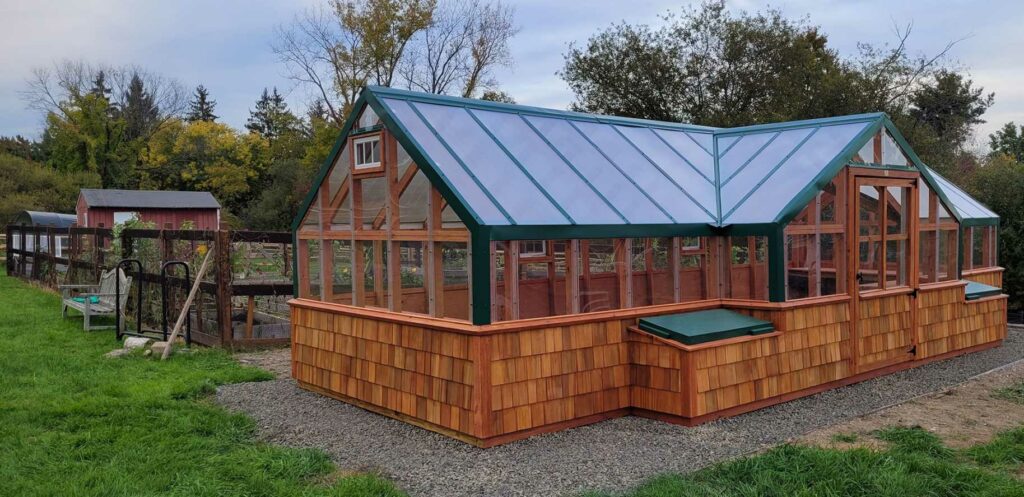 Outdoor Personia can custom-design a quality, hand-crafted greenhouse just for you. You can include optional benches for easy potting, window ventilation to control internal temperatures or an electric package for fans and lighting. The outer dimensions and base wall can be built at various sizes as well as adding an attached storage shed!
Paint the Duratemp siding with the color of your choice, or cover the exterior with stained cedar shingles.
Add window ventilation to control internal temperatures or an electric package for fans and lighting. The outer dimensions and base wall can be built in various sizes.
Outdoor Personia offers you even greater flexibility in building your greenhouse than manufactured kits do. Although kits are available in many sizes, we can design and build a greenhouse in any size or shape, using various materials.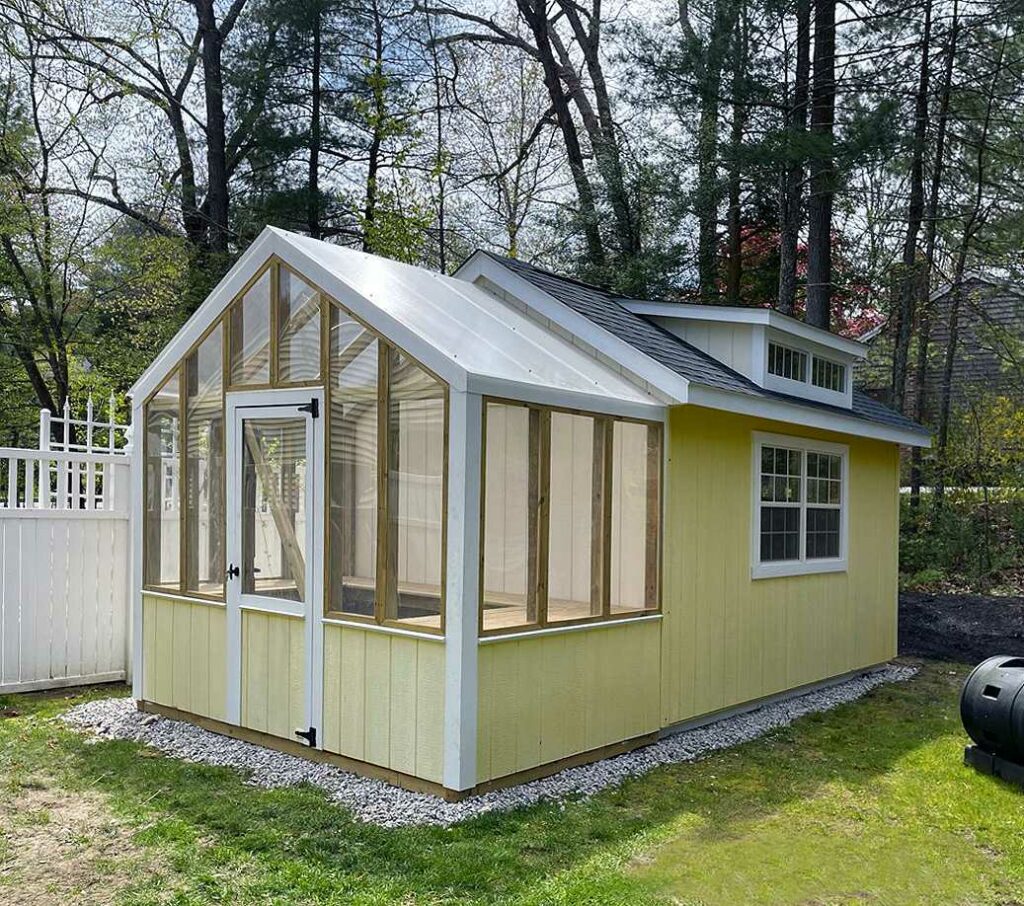 2. You Get a Greenhouse Crafted to Premium Quality Standards By Area Artisans.
We understand your greenhouse needs because we live here, too! As your good neighbors, we ensure that your greenhouse will provide insulation for a consistent growing environment, effective light diffusion, and proper toughness to withstand New England snow and wind loads.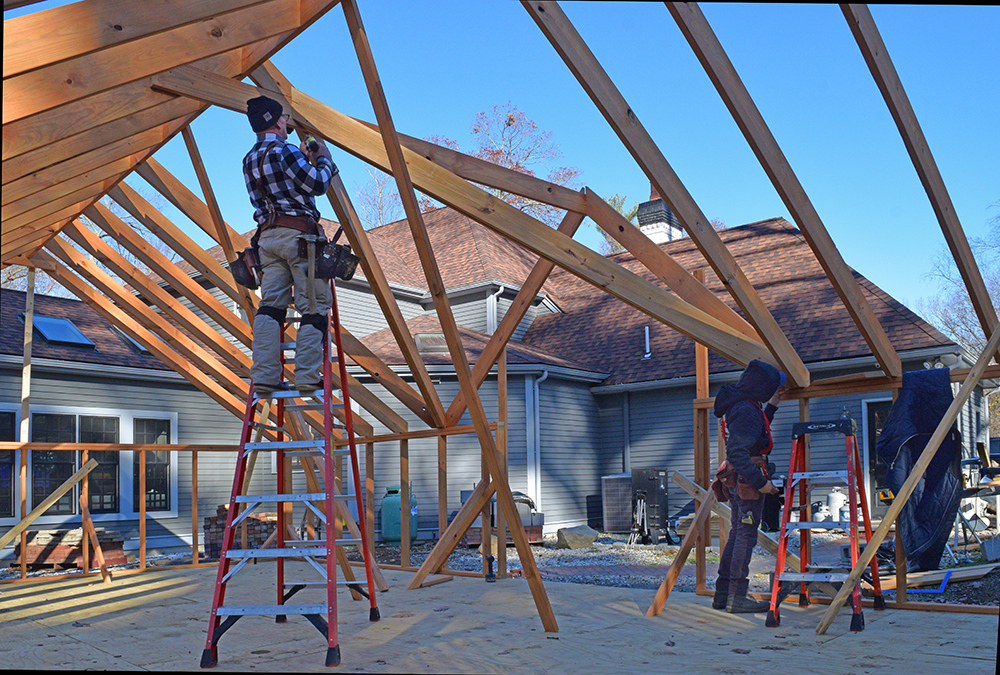 As regional craftsmen, we take pride in the buildings we've built in the neighborhood. We strive to exceed your expectations for New England craftsmanship.
3. You Get Materials of Superior Durability.
Many greenhouse kits are framed with lightweight aluminum to keep shipping costs low and may be susceptible to the high winds and harsh temperatures of the Northeast.

Made from durable, long-lasting materials, Outdoor Personia greenhouses far exceed kit greenhouses in quality and beauty. We frame our structures with a variety of materials including pressure-treated southern yellow pine or stained cedar wood with weather-resistant metal trim.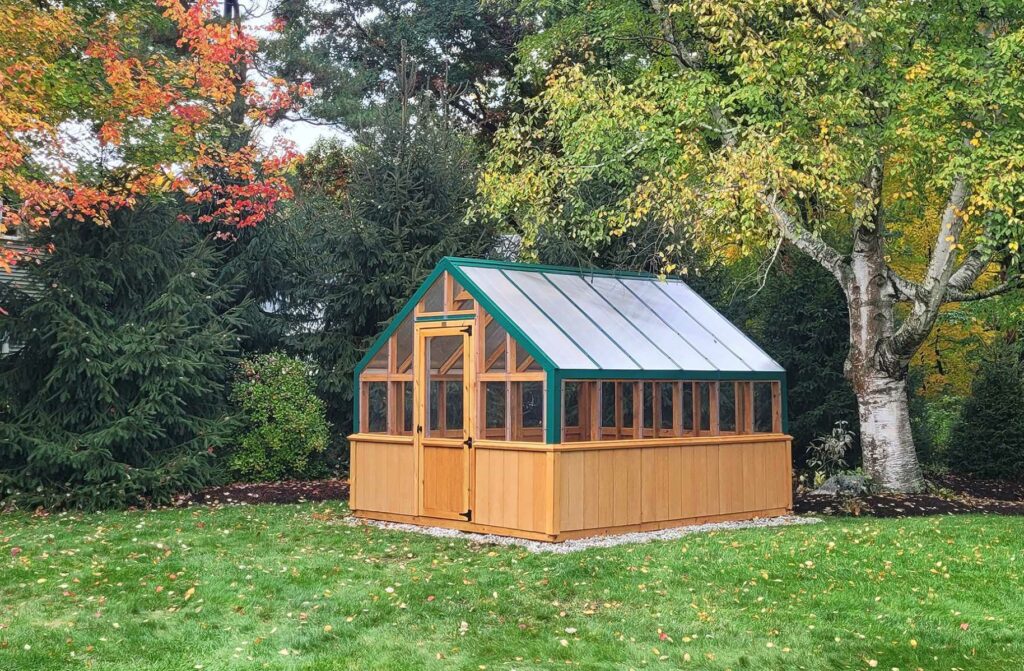 Durable polyacrylic clear walls and roofing diffuse the sun's rays while still retaining the natural solar heat. You can also choose from a number of floor types for the best drainage. The solid knee walls can support an optional bench for potting and choose to cover the exterior with painted Duratemp siding or stained cedar shingles.
4. You Get Site Prep and Installation Assistance.
When building and customizing a greenhouse, you will need to follow the local building codes. To apply for a permit, you may also need to provide engineered drawings. Outdoor Personia will prepare the foundation and work with you to make your dreams of a beautiful, fully functioning greenhouse a reality. No online kit comes with that kind of customer support!

Outdoor Personia will help prepare a proper foundation for your new greenhouse. You might not need to pour a full concrete pad, but you certainly don't want to set your greenhouse directly on the ground. We'll look at your site and recommend the best foundation: concrete, pavers, gravel, or pressured-treated timbers.

Pre-built greenhouse kits do not include expert installation. The homeowner is solely responsible for either building the structure or hiring a costly professional contractor. If the ground is not prepared correctly and leveled the structure's materials can crack or warp over time. We'll work with you to choose the best site, prepare it correctly, and skillfully install your new greenhouse.
5. You Get a Regional Manufacturer Standing Behind Their Products.
If you build a greenhouse kit, you likely won't qualify for service and repairs. You may get a warranty on different greenhouse accessories and raw materials, but who will service and repair your greenhouse? Outdoor Personia stands by our work, and we're just a phone call away to provide any necessary service and repairs to your structure.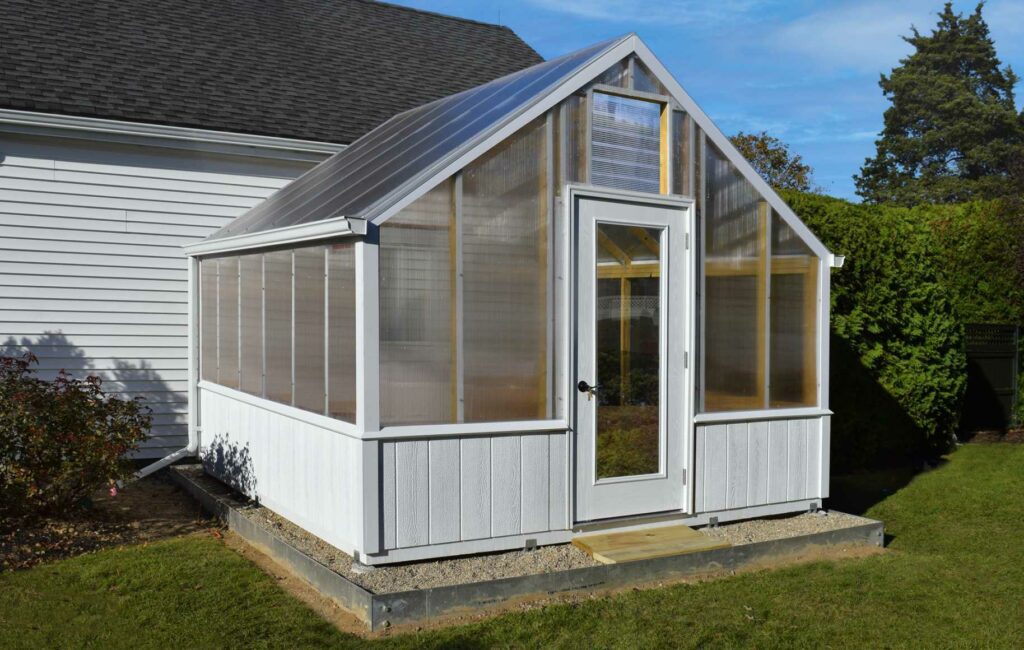 Here's the bottom line: If you're ready to invest in a greenhouse, you'll never regret doing it right.
Call us today and schedule a consultation to begin designing the premium greenhouse of your dreams!